Play Video for Demo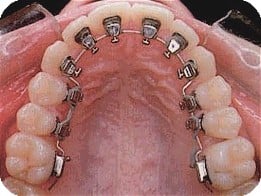 Affordable Lingual Braces in Melbourne
What are Lingual Braces (Hidden braces, Invincible braces)?
Lingual braces are the most invisible type of braces that are fixed on the inside or back surface of teeth. They are called "lingual" since they are near the tongue.
The lingual brackets have been used to straighten teeth since the early 20th century. However, in the last ten years, the lingual braces systems have been revised in design and technique to be smaller in size yet more efficient and provide greater comfort to the patient due to innovations in CAD-CAM and 3D technology, where most of the treatment planning and lingual braces appliance design and fabrication is computerized.
Why choose Lingual braces?
One of the biggest advantages is that they are virtually invisible. They are fitted on the inside surfaces of the teeth and are suitable for people who are very conscious of having visible braces or even Invisalign.
These have been particularly popular in older teenagers and adults who prefer to go incognito and have not sought orthodontic treatment mostly to avoid braces on the outside of the teeth.
Professionals with client-facing roles, personals from TV and media industry, models or even soon to be brides and grooms can be discrete about their orthodontic treatment.
a less known fact about lingual braces is they don't cause any staining, white spots or scratching of the front surface of teeth, preserving their appearance and structure, unlike the braces placed on the outside.
How is it better than other types of clear braces like Invisalign?
In most cases, no attachments are needed on the front surface of the teeth
Another important advantage of lingual braces is it is a fixed system. This allows you to eat and function without worrying about not wearing them correctly or for enough time. That means they are always working!
They can also be equally fast and efficient as traditional braces placed on the outside when treated by clinicians with greater experience in lingual braces.
100% Invisible as its placed inside the mouth.
What are the drawbacks of Lingual braces?
Most patients with lingual braces may experience some cutting or rubbing of the lingual brackets on their tongue.
They also have had trouble with their speech, particularly in the initial few weeks of starting treatment, and have described it as getting a lisp. This is because several words are pronounced by the articulation of the tongue with the inside surfaces of the teeth. However, this is only a short-term problem, and most get used to the appliances within a few weeks.
Another common problem that patients face is difficulty in brushing their teeth, particularly flossing. As the braces are hidden it is difficult to see if some spots are being missed while brushing but our orthodontist and hygienists will educate all our patients on the best way to maintain oral hygiene even with lingual braces. Sometimes the use of a "water-flosser" or "Waterpik" can help with maintaining optimal oral hygiene.
The financial aspect of lingual braces. They are the more expensive braces system to opt for, however, at Smile Avenue Orthodontics we can tailor-make your treatment plans, customize appliances or combine lingual braces on upper teeth with traditional or white braces on lower teeth to make the lingual braces more affordable.
In nutshell, important points to remember about lingual braces are:
The truly invisible way to get orthodontic treatment or braces
Great for patients conscious of getting braces due to social or professional reasons
The best option for brides and grooms thinking of straightening teeth closer to their special day
You can still use teeth whitening on the outside surface of your teeth while having lingual braces
No staining, scratching, or white spot lesions on the outside surface of your teeth
Can cause initial discomfort to the tongue
Patients can have difficulty with speech and form a slight lisp for the first 2-3 weeks
Can be more difficult to brush and floss and they are hidden behind the teeth
Can be more expensive versus traditional or white braces
Lingual Braces Types:
Single Arch 3D invisible lingual System:- In this treatment 3D lingual invisible braces are used to just treat upper or lower teeth only. (subject to case assessment as not every case is suitable for the single arch system). Single arch lingual system are100% invisible and undetectable.
Mixed 3D Invisible Lingual System:-The most popular and economical choice of comprehensive lingual orthodontic treatment. In this alternative, the lingual 3D bracket system used in the upper arch can be combined with metal or ceramic (white) braces in the lower arch. As in most individuals, the upper teeth are most noticeable, and lingual braces ensure that the braces are not visible on upper front teeth. This allows for a significant reduction in treatment costs.
Full 3D Invisible Lingual System:-In this treatment, customised 3D invisible bracket systems are custom made to an individual case for both upper and lower teeth arches. Too date, this is the only orthodontic treatment available which is 100% invisible.
Lingual Braces treatment Process :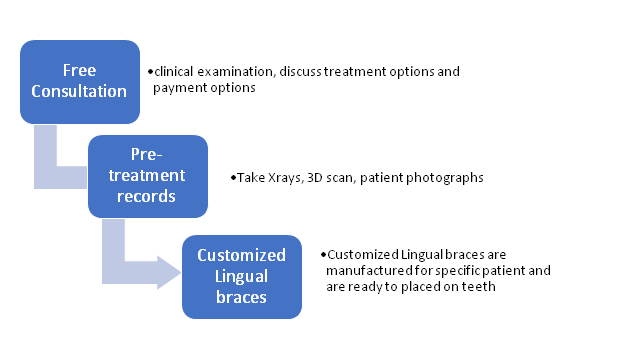 Free consultation
As for most orthodontic patients, your journey at Smile Avenue starts with a complimentary first consultation with our experienced orthodontists, which provides you with the opportunity to talk with our doctors about your problem and ask any questions you may have. The clinician will assess your case and provide you with important information like the severity of the problem and whether you would be a suitable patient for lingual braces.
3D scan and simulations
Most consults will include a 3D digital scan of your teeth to discuss and show you the current malocclusion and a simulation of how the teeth may look after treatment. Patients find it comforting to see their treatment result simulations prior to even starting the treatment!.
Digital set-up for lingual braces fabrication

Below are real patient scans during treatment with lingual braces, for finishing final teeth positions with digital models and customised archwires. The patient opted for lingual braces on the upper teeth and white or ceramic braces on the lower teeth for their orthodontic treatment.

Lingual braces appliance designing: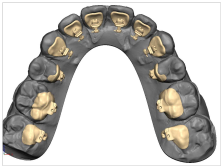 Customised 3D lingual archwire fabrication

Why Choosing Smile Avenue Specialist Orthodontists :
1-Experts in treating Mild to complex surgical lingual orthodontic cases- Our Orthodontists have authored numerous research publications and case reports in the field of complex orthodontics. These articles and case reports are published in world-renowned journals such as the American Journal of Orthodontics, European Journal of Orthodontics, Australian Orthodontic Journal, Journal of Visual experiments etc. Please follow the link to view our orthodontic research portfolio.
2-Evidence base clinical assessment: Case selection is important for lingual braces treatment success, as not every orthodontic patient is suitable for lingual braces treatment. We take an unbiased approach while assessing you for lingual braces treatment. If lingual braces are not an ideal option specifically to your case then we have all other options available such as metal, ceramic, self-ligating or clear aligners such as Invisalign. If you are looking for a second opinion, you are welcome to book a free assessment.
3- Affordable lingual braces prices: Our treatment prices are most competitive and transparent in Melbourne. We offer a free consultation to all our patients and if you have any dental cover your Xrays and 3D scans are Gap Free or Bulkbill with eligible medicare. If you don't have any private health cover your 3D teeth scans are free. We also offer 100% interest-free repayments option without the involvement of any third party to keep our prices affordable.
4- Advance Technology: Our practice is equipped with digital 3D scanner enabling us to take live 3D scans of your teeth and show you the expected results within minutes. Patients can see their results before starting treatment.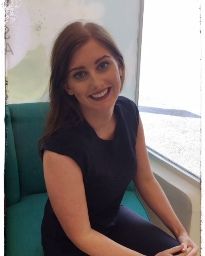 (Actual patient wearing full Lingual invisible 3D system).
Lingual Braces Cost:

The cost of lingual braces could range between $6000-$12000 depending upon the treatment type selected ie single arch 3d system, mixed 3d system or complete upper and lower lingual 3d braces. There are other factors determining the final cost such as treatment complexity and treatment time. Free initial consultation, provided to all new patients. For information regarding the cost of different orthodontic treatments please click here
Lingual Invisible Braces
$5000-$6000 per arch
Initial deposit of $2000-$3500
Post-treatment retainer included
Interest-free payment plan
Gap Free Xrays with any health fund
Bulk Bill X-rays with Medicare
Free 3D teeth scans see results before you start
Free post treatment X-rays and review appointments valued
upfront payment & family discount applies
Most Affordable price in Melbourne
100% Invisible Braces suitable for adults
Lingual Braces Offer 2021
FREE Teeth Whitening!
Free 30 Minute Comprehensive Orthodontic Assessment
Free post-treatment lingual and removable retainers Valued at $1200
Interest-Free Payment Plan
No gap X-rays with any heath fund Valued at $220
Free 3d scan see your results before you start valued at $395
Bulk bill X-rays with eligible medicare.
Free post-treatment X-rays and review appointments valued at $300.