Deep Bite Orthodontic treatment in Melbourne
Deep bite problems
Deep bite is also called increased 'overbite' and refers to the excessive vertical overlap of front teeth. This means that the incisors (front cutting teeth) on the upper jaw overlap those on the lower jaw more than normal.
The front two to four teeth may be tilted either inwards and the lower teeth may touch the roof of the mouth. In patients with a deep bite, the upper teeth overlap the lower teeth more than normal, causing injury to the gums on the palate; the lower teeth are almost fully hidden behind the upper teeth on biting down and are not visible from the front. The deep bite also commonly causes more wear and tear of the lower front teeth making them shorter in height, causing them to chip and break.
Associated problems
Patients with deep bite may also experience associated problems, including:
excessive display of gum tissue
biting the roof of the mouth
incisor wear
self-consciousness about their facial appearance
Deep bite Causes
The causes of deep bite are varied, but include:
inheritance – other family members may also have deep bite problems
changes in tooth position
loss of some teeth, particularly supporting teeth behind the incisors
Treatment options
Correction of deep bite generally requires influencing facial growth to bring the upper and lower jaws and teeth into proper alignment. There are several treatment possibilities, which will be discussed with you at your free initial consultation. These include:
fixed appliances like braces
orthognathic surgery (corrective jaw surgery)
Bite plates (in children)
FAQs
Can a deep bite be treated with Invisalign or braces?
Treatment for a deep bite generally involves braces, either alone or in conjunction with jaw surgery, so patients will be able to choose the type of brace they prefer. This includes Invisalign, traditional metal braces, white braces or lingual braces. Your orthodontist will discuss the various braces with you and help you to decide which is best for your individual circumstances.
What are bite turbos?
Bite turbos are small amounts of filling martial like composite that are bonded to the back of the teeth. They are sometimes used in conjunction with braces to prevent the braces from interfering with each other.
Will I need surgery to fix my deep bite?
Many cases of deep bite are able to be remedied by the wearing of braces such as Invisalign (clear braces) or metal braces (traditional braces). More severe cases may need jaw surgery. Your treating orthodontist with discuss the options with you and outline a suggested treatment plan for you to consider.
How long does the treatment take for deep bite?
Treatment time depends on the type of treatment that may suit your individual bite problems. If your case requires extractions or jaw surgery, it may take 18-24 months for completion.
What are the treatment costs?
For information regarding costs, Free Consultation, Free retainers, Gap-free X-rays please click here.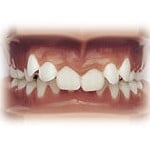 .