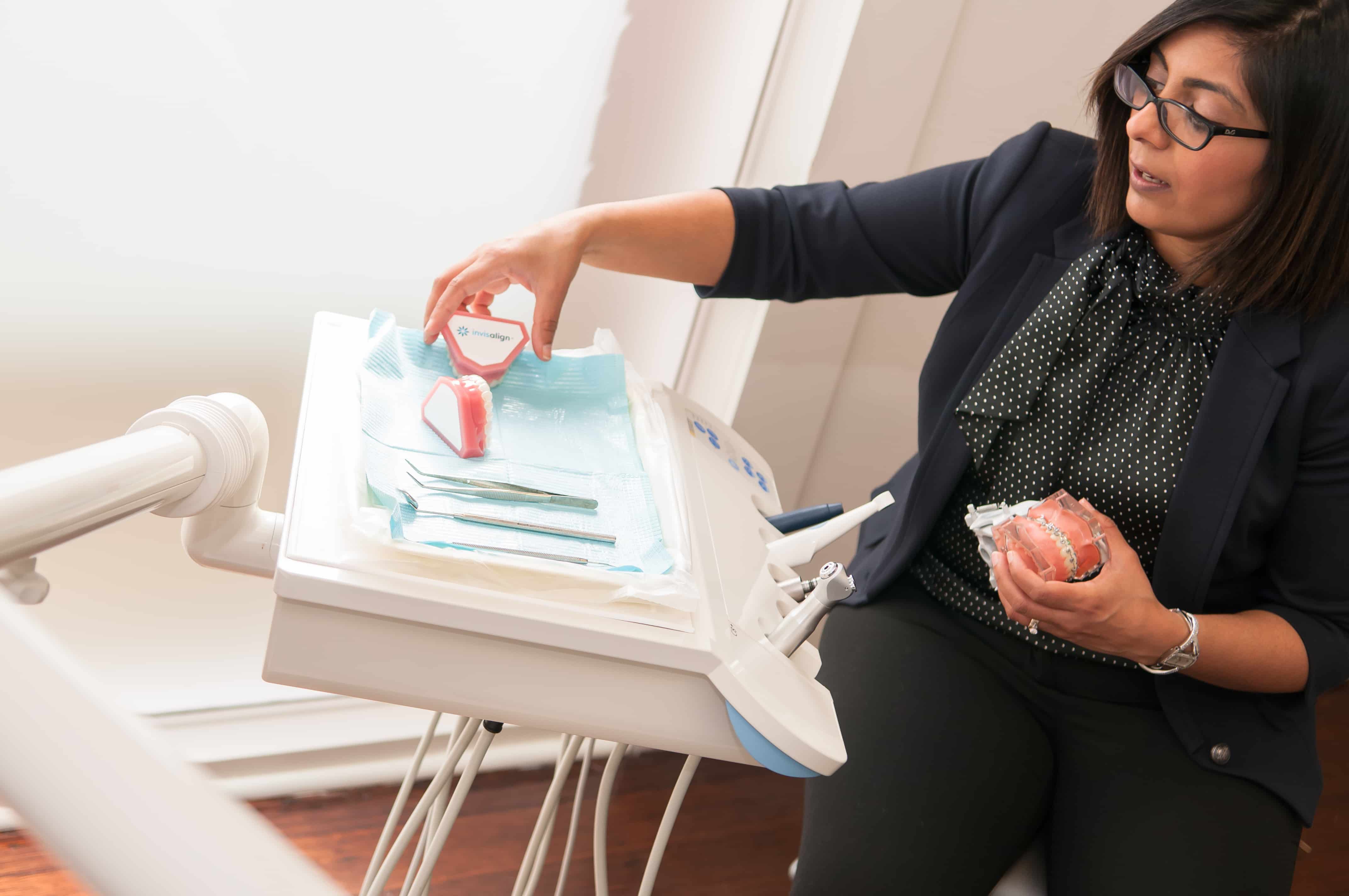 What is the cost of Invisalign Treatment Melbourne Smile Avenue Specialist Orthodontists?
At Smile Avenue Specialist Orthodontists, we try to offer a complete Invisalign treatment package which could range from $2000-$7500, depending upon case difficulty and duration of treatment. The cost includes all ongoing appointments, refinements (finishing during Invisalign treatment), pre-orthodontic photographic records, impressions, Ceph analysis, and emergency appointments. The first set of post-treatment retainers (clear and fixed), valued at $1000, are also included in your treatment cost. Typical payment plans include a deposit payment, then between $200-$350 per month for 18 months course. These are completely interest-free payment plans. Free (without insurance) or No Gap(with private insurance) itero 3d teeth scan included with your treatment cost. See you live 3d teeth movement through the different stages of your treatment plan before starting your treatment.
Free invisalign orthodontist consultation
Free 30 minute comprehensive orthodontic assessment
Treatment options risks & benefits
Invisalign comparison with other systems
No-Gap Xrays with any private dental cover.
Free 3d itero teeth scan valued at $395.
Financial Information
Invisalign i7-complex cases
$2000-$7500
Initial deposit of $500-$2500
No deposit payment plans also available
No gap orthodontic x-rays with any dental insurance
Free 3d itero teeth scan valued at $395 included
Ceph analysis, pictures valued at $180 (included)
Interest-free monthly repayments plan (included)
Post-treatment retainer valued at $1000 (included)
Treatment by Senior Specialist Orthodontists
2.5% upfront payment discount & Family discount
Evidence-based Invisalign Assessment at Most Affordable Prices in Melbourne by Specialist Orthodontists
The success of Invisalign treatment is dependent on the right case selection. While the current research suggests Invisalign is fully capable of handling mild to moderately difficult cases, some recent researchers suggest that patients with severe malocclusion, such as extraction cases, may also be successfully treated with Invisalign. At smile avenue, we take an unbiased, evidence-based approach for Invisalign case selection. We compare all treatment options with Invisalign, such as metal braces, ceramic braces and lingual braces based on treatment risks, limitations, benefits and treatment time. The outcome of the analysis is shared with the patient and a treatment course is decided with mutual understanding.
Our specialist orthodontists have written numerous research publications, case reports, clinical trials in the field of orthodontics in some of the most prestigious orthodontic journals such as the American journal of orthodontics and dentofacial orthopedics, Australian orthodontic journal, European journal of orthodontics etc. Please follow the link to review our research portfolio. We have also published a clinical trial in the USA worlds first comparing oral hygiene level of patients using clear aligners vs fixed braces. Our research-based Orthodontists can treat from easy to most difficult Invisalign cases.
Invisalign Treatment Success Factors:
Case severity: Selecting the right case based on currently available research on Invisalign.
Patient selection: As Invisalign is a removable system, it requires a high level of compliance in regard to prescribed wear time. Noncompliance can result in delaying the treatment time and also may result in relapse. This means that Invisalign aligners only works if the patient wears them for the required length of time.
Precise treatment planning – Multiple customized treatment plans and options can be created using Invisalign's virtual set up, Clincheck, prior to commencing treatment, for better patient understanding. Aligners are fabricated based on final treatment planning. This is the most important step for a successful Invisalign treatment. Sound understanding of orthodontic biomechanics and experience will improve the treatment planning, predictability of tooth movement and the final outcome. Treatment plans and hence outcomes can vary between treating clinicians, dependent on basic orthodontic knowledge and experience. The three important factors which Smile Avenue Specialist Orthodontists focuses on include, but are not restricted to:

Restoring facial harmony (aesthetics)
Restoring function/occlusion (bite)
Preventing early relapse by spending time on final finishing and long-term retention
Things to consider before choosing an Invisalign Provider
Free initial consultation, provided to all new patients. For information regarding Other Braces Costs please click here .