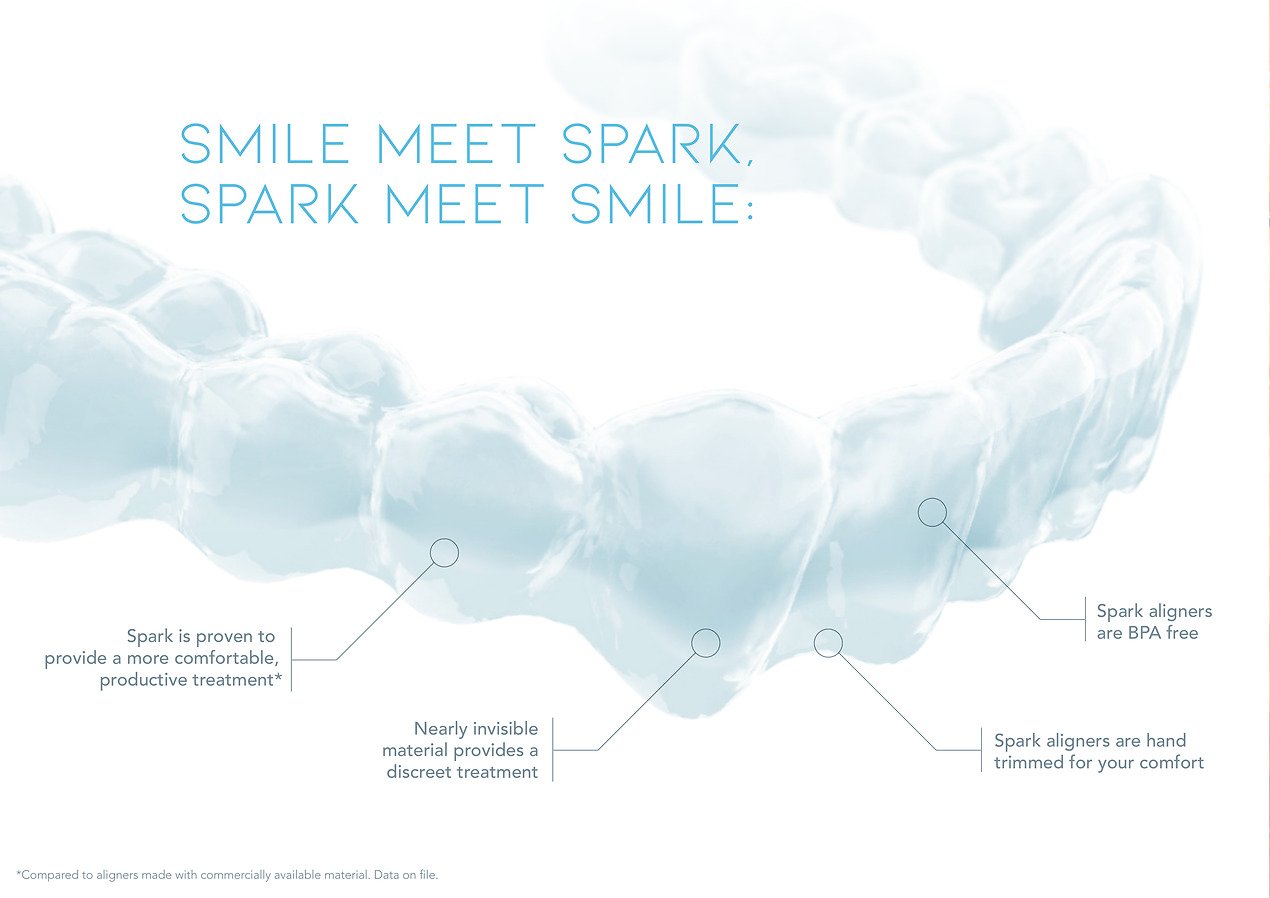 Spark Clear Aligner Melbourne
What is Spark clear aligners?
Spark Clear Aligners is a removable clear removal aligner orthodontic system used for teeth straightening. Each spark aligner is custom made to your specific teeth and patients are required to change their spark clear aligners every two weeks. Each new aligner forces teeth movement step by step till the final results are achieved.
Advantages of Spark clear aligners.
The biggest advantage of Spark clear aligners is the aligner material is more transparent clearer than any other aligner system available such as Invisalign or clear correct. The aligners are so transparent it looks almost invisible when patients are wearing them.
As the aligners are removable it gives choice to the patient to take them out when needed like brushing or eating. The system has no wires or brackets so it is more comfortable than wearing traditional braces.
Disadvantage of Spark clear aligners.
Spark clear aligners might not be suitable to treat difficult orthodontic cases such as surgical orthognathic cases or complex extraction cases. The other main disadvantage is as they are removable braces high level of patient commitment is required to wear them 22 hours a day. Failure to wear them as prescribed can result in treatment delays. Regular cleaning and maintenance are also required with clear aligners as you are constantly wearing them.
Spark treatment process at Smile Avenue Specialist Orthodontists:
Free initial consultation: Your first consultation is free with our orthodontists; during this initial consultation we will first evaluate your orthodontic issues functional (bite), aesthetic, and lifestyle. Based on the assessment we can prescribe you clear braces options such as Spark or Invisalign. We have all other orthodontic options available as well such as lingual invisible braces or traditional braces. The patient can choose one of the options based on their orthodontic needs, lifestyle, and budget.
Free 3d teeth scan; during your initial visit or second consultation, we will take a 3d scan of your teeth. We can also show you the expected results instantly before even starting your treatment. We will also take your X-rays OPG and Latcheph for our assessment which is bulk billed with eligible Medicare. If you have any dental cover your Xrays and 3d scans are Gap-free. If you don't have any private health cover your 3d scans are free. A bulk-bill X-ray referral can be provided if you are a Medicare-eligible patient.
The approved 3d scans are then sent to the Spark aligner labs and our orthodontist works on the Spark clin-check software and creates your final clin-check treatment plan. This final treatment plan shows your teeth movement from start to finish. Patients can also review this and discuss this in detail with specialist orthodontists before approving it. The clin-check is finally approved and sent to the Spark lab for manufacturing.
Once the appliance arrives your insertion appointment is booked during which your spark clear aligners are fitted to your teeth with attachments and your treatment starts.
FAQ
Cost of Spark clear aligners in Melbourne.
The cost of spark aligners treatment will be dependent on two factors treatment complexity (mild, moderate or complex) and treatment time. The cost could range between $2000- $7500.
Which is the better appliance Spark aligners v Invisalign
While Invisalign has been the market leader with over 10 million cases and is worldwide accepted by orthodontists and dentists, Spark is made by Ormco and is relatively new in the market mainly used by orthodontists. Ormco has been a global orthodontic research and orthodontic appliance manufacturer with 50 years of experience. Some of the other popular products the company offers are Damon self-ligating braces, Insignia, Symetic clear. A significant amount of research and development has been put in Spark clear aligners making it a cheaper more affordable alternative to Invisalign. Both Invisalign and spark work on a similar philosophy and patients can be treated with both options.
The most important single factor in successful orthodontic treatment is the clinician preparing and working on your treatment plan. Whether you use Invisalign or spark or clear correct the final result will be dependent on your treating orthodontist his experience and knowledge. The more knowledge and experience he or she has in orthodontic biomechanics the more precise will be the treatment plan finally result in custom aligners manufacturing and final patient result.
For complete costs regarding all bracket systems and our terms and conditions please click here