Affordable kids Orthodontics in Melbourne
The Twin Block is an appliance in two halves; one for the upper jaw and one for the lower jaw, each half have an inclined plane, possibly also an expansion screw for widening the jaws and springs or mini-screws for adjusting the individual position of teeth.
The Twin Block works by having an inclined plane in the upper and one in the lower, when the patient bites together the upper plane pushes the lower plane and so the lower jaw forwards. The Twin Block exerts force and can correct the bite, correct the deep bite, expand the tooth arch and correct individual tooth position.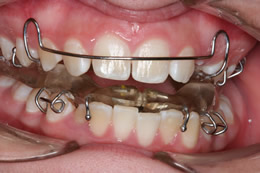 Free initial consultation, provided to all new patients . For information regarding braces costs please click here.